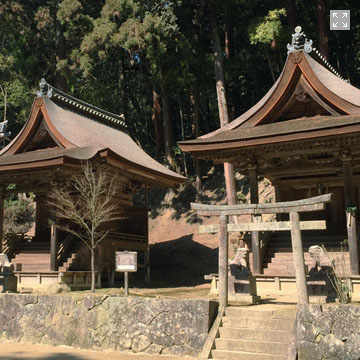 Dating from 1559 (Eiroku 2nd yr), Goho-do is two small shrines in front of Kaizan-do in Oku-no-in (the inner sanctuary).
Facing the shrines, Oto-tensha Shrine is on the right, and Waka-tensha Shrine is on the left.
Gohodo is dedicated to the guardians of Shoku Shonin (the founder of Shosha-zan).
These protectors are incarnations of Ototen or Fudoson (Acala: the Deity of Fire), and Wakaten or Bishamonten (Vessava?a: the Deity of War).
These two shrines are constructed in the Kasuga style of the same size and design, and their roofs are covered with Hiwada (Japanese cypress bark), characterized by the shrine architectural method at the end of the Muromachi period (1336-1573).
Though the shrines are small, the prominent techniques are used in detail.
a National Important Cultural Property
Oto-ten and Waka-ten / 乙天若天